LL2709s Tradesman Pocket Spiral Notebook
Step 2
Upload attachments
Please ensure that your file type must be TIF, BMP, GIF, JPEG, ZIP, PDF or DOC. The maximum capacity total for your uploaded file must be less than 30Mb.
* Teksoft Print accepts NO responsibility for any copyright issues from the files you upload.
Comment for product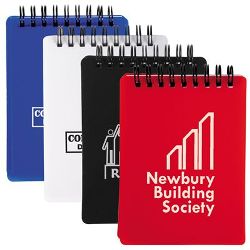 Description
Answer & Questions
Pocket notebook with 70 sheets of top spiral bound lined paper with perforations.Robust cover.

ITEM SIZE(MM) 93L x 135H.
PRINT AREA(MM) 70L x 80H.
COLOURS Red, Blue, Black, White.
MATERIALS Polypropylene/Paper.