LL1002s Water Saving Shower Timer
Step 2
Upload attachments
Please ensure that your file type must be TIF, BMP, GIF, JPEG, ZIP, PDF or DOC. The maximum capacity total for your uploaded file must be less than 30Mb.
* Teksoft Print accepts NO responsibility for any copyright issues from the files you upload.
Comment for product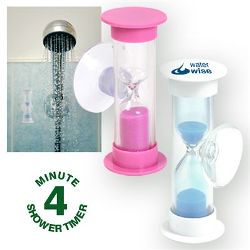 Description
Answer & Questions
4 minute rotating timer with suction cup for attaching to glass shower screens. Reduce shower times and conserve water. This Product is part of our Green Conceptz Collection which promotes environmentally friendly, and eco friendly messages.

ITEM SIZE(MM) 25L x 60H.
PRINT AREA(MM) Top - 20Dia, Barrel - 38L x 8H.
COLOURS Clear/White with blue sand, Clear/Pink with pink sand.
MATERIALS Plastic.